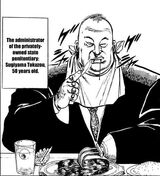 Sugiyama Tokuzou is the administrator of Kokubu Prison.
Appearance
Edit
Sugiyama is a fat middle aged man in a buisness suit. He is 50 years old.
He only one has eye and a hook for a left hand.
Personality
Edit
Like the warden, Sugiyama is unreasonably cruel to the prisoners. He is also a perert as he has a large collection of pornography in his office.
Abilities
Edit
Sugiyama has no real abilities, but is seen wielding a gun several times.